Herman Aubrey "Boycie" Boyce
was a character in Only Fools And Horses. He also appeard in the shows 2 spin offs, Rock & Chips and Green, Green Grass, in which he was the main character. He was a second hand car salesman who came from the same background as Derek "Del Boy" Trotter but became a rich man with a posh house. He was a spiv who was quite snooty, and he forgot that he is cut from the same cloth as Del, Denzel
and Trigger. Boycie was played by John Challis.
History
Herman Aubrey Boyce was born in 1945 in Peckham, London. He inherited his father's scary looks. In about 1950 Boycie's mum took a photo of him and his dad, the only one who called him by his middle name Aubrey. Boycie went to Dockside Secondary Modern school where he met Derek "Del Boy" Trotter, Denzel and Trigger - aka Colin Ball and they all becoame good friends. In 1968 Boycie married Marlene Lane. Boycie did a stretch in prison when he was young for perjury, embezzlement, perverting the course of justice and attempting to bribe the Mayor of Lambeth.
Rock & Chips
In 1960, 15 year old Boycie hangs out with Del, Trigger, Jumbo Mills and new-in-town Denzil are still in school, following an increase in the school-leaving age. Boycie was present for the First Jolly Boys Outing in 1960
Five Gold Rings
During the events of "Five Gold Rings", Boycie got himself a job as a
cleaner for a Spanish second hand car dealer, Alberto Balsam.
After Rock & Chips
In 1963, Boycie met his future wife Marlene in a betting shop she was working in down Lewisham Grove at the time. Marlene was dating Boycie whilst also seeing Derek Trotter after meeting him at the same betting shop down Lewisham Grove at the time. Del planned to take her on the holiday of a lifetime but one day she packed him in suddenly, yet the night before he had taken her to his flat so she could meet his mum and dad for the first time. Del never got his money back from the caravan site he had booked for their holiday. Marlene later married Boycie in 1969 due to a pregancy scare.
1981-2003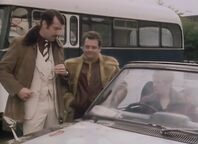 Boycie makes his first appearance in the second episode of the first series "Go West Young Man" Del and Rodney go to his Showroom and buy a clapped out car off him for £50. Boycie asks Del if he can store his new E Type Jaguar in his garage for him for a week, it is a present for his bit on the side. Del agrees to this.
Boycie's next appearance is in "A Losing Streak", in which Del has been losing in a series of poker games with him, which Del attributes to a "losing streak".
Strangers on the Shore
Del Boy has been driving for Boycie in order to earn money after losing his fortune. As Boycie and Marlene prepare to head to a relative's wedding, Boycie boasts to Del about how he is going be a millionaire when he travels to France in a month's time to sign a multi-millionaire deal with an Iranian businessman, and will not make the same mistakes that Del made.Fed up of Boycie's boasting, Del gains his revenge on Boycie by squeezing a tub of onion purée into his hair gel since Boycie cannot smell it due to a blocked nose.
A short time later, Boycie shows up asking to stay the night at the flat, because a gas leak from the log-effect gas fires Del sold him has filled his house with gas, and the fire brigade has evacuated the entire road. Marlene and Tyler are staying at her mother's, who forbade Boycie from staying because of an argument at the wedding caused by the onion purée Del squeezed into Boycie's hair gel. Feeling guilty, Del reluctantly allows Boycie to stay.
2 weeks later, the fire brigade allow Boycie to move back into his house and he asks Del to drive him to France the following week so he can sign the contract. Rodney suggests taking "Gary" back with them, but Del declines out of fear of being caught smuggling a migrant out of the country, a likely first. Boycie tells them that Damien has taken him to play football with his friends and he has not been seen since. When Del, Rodney, and Boycie arrive in France, they meet with Boycie's Iranian business partner Mr. Mamoon, who introduces them to his son, Rashid Mamoon, who is revealed to be "Gary" and was working at the wine warehouse and loading Denzil's lorry, when Del accidentally trapped him under some beer boxes. Believing the trio are there to demand a ransom, Rashid panics and claims Boycie and the Trotter brothers are the kidnappers. Mr. Mamoon calls the police and Del, Rodney and Boycie are arrested for kidnapping.
Sleepless in Peckham
After not hearing from Marlene for a couple of days, people begin to become suspicious, with Del and Rodney remembering that Boycie took out a life insurance policy on her. The pair visit Boycie and Del bluntly says he thinks Boycie killed her and buried her in the garden. Boycie is angry and says he has never been insulted so much in his life. He spent many hours on that garden, he is not going to just dig a hole in it. He says she is upstairs. Del cannot hear her and Boycie says she is a deep sleeper.
At The Nags Head during the Ziggy Sawdust Tribute, Boycie shows up with Marlene who is revealed to have had a boob job. Everyone takes the mickey. Marlene and Raquel Turner have a row after Marlene praises her dress then says she must pick up the curtain from the cleaners on the way home. Raquel mocks her boob job and her age. Sid throws Marlene out, unaware it is her and Boycie's anniversary do, to which Boycie loudly informs Sid. They're allowed back in and Sid gives out free champagne to everyone to distract from the incident.
Boycie next appears in the spin off series "The Green, Green Grass" set in 2005 as one of the mian characters alonagside his wife Marlene and Tyler Boyce. Eighteen months prior to the series starting, Boycie snitched on the The Driscoll Brothers, resulting in them getting a life sentence. However, 18 months later he finds out from Denzil Tulser that they are due to get out as the witnesses to their crimes changed their statements, and they have found out that Boycie is the secret snitch. Boycie sells his showroom and house and moves to rural Shropshire in order to get away from them.
According to the autobiography "He Who Dares" Boycie and his family returned to Peckham circa 2009 after series 4 of The Green Green Grass since the threat of The Driscoll Brothers was non-existent anymore, much to the surpise of everybody. It's unknown what happened to their farm in Shropshire but the change of lifestyle was noticeable immediately, with Del Boy refering to him as looking like a ploughman's lunch. Still, Del thought it was good to see him and know he and his family were alright.
In 2015, the last time
Del
saw Boycie he was considering gettinga nip 'n tuck. Del suggested he have his whole face done and Boycie, in his vanity, took it on board.
Some time later in 2015, Boycie and Marlene read Del Boy's autobiography
He Who Dares
.
Boycie wasn't pleased at how he was depicted in Del's book, and planned to make a complaint. However, after being told how much the booksellers would pay him, he completely changed his attitude.
Personality
Boycie, although materially successful and ostentatious in his spending, remains competitive with Del and other friends, enjoying their company, although he does enjoy reveling in his superiority. Despite this, it appears that he dearly loves his friends throughout the series. He generally wears clothes and carries accessories synonymous with 1980s yuppie success, such as trench coats and very early mobile telephones. In the episode Sickness and Wealth, in which the series regulars took part in a seance, the medium asked for "an Aubrey". When Boycie replied that it was his middle name, Trigger said "You never told us your name is Aubrey." Boycie replied "Nor would you if you name was Aubrey." Whenever Boycie has a drink in the pub, it is always a large cognac.
Boycie and Del share a loose friendship, but prefer to play a long standing game of one upmanship. Boycie is at pains to maintain the upper hand over Del in that he is a mason, a successful businessman and wealthier than the Trotters. One of his trademarks is his deep, mocking laugh, usually following a sarcastic, biting remark at the expense of Del or other characters, as well as his distinctive South London nasal twang. Boycie has appeared since the second episode of the first series; he made sporadic appearances from series 2 - 5 and appeared more in series 6 and 7.
It is, however, usually Del (a character more street smart and popular with the Nag's Head social group) that gains the upper hand, often trading on the fact that he has a long-standing, flirtatious friendship with Boycie's wife, Marlene. Del has alluded to past sexual encounters with Marlene, and to her reputation amongst Nag's Head regulars as 'The Peckham Bicycle'. He has also claimed to have inside knowledge, through Marlene, of Boycie's marital secrets, and has alleged that Boycie has at times suffered from impotence; these rumours were not fully quashed even after the eventual birth - following many attempts - of Boycie and Marlene Boyce's son, Tyler.
Boycie enjoys overt displays of wealth, formerly living in (the fictional) Kings Avenue, the most expensive street in south east London. Kings Avenue is a parody on one of London's real richest streets, the Bishops Avenue in Hampstead. He owns a holiday cottage in Cornwall, his hobby is breeding tropical fish, and he also once bought his "bit on the side" a Jaguar E-Type convertible.
Boycie is played by John Challis. Boycie is Challis' best-known character, and he has made more appearances as an Only Fools star than any other actor. Along with Sue Holderness, he has fronted GOLD's 30 years of Only Fools celebrations, and has been active in the campaign to bring back the series.
Community content is available under
CC-BY-SA
unless otherwise noted.