We're Getting Mutants in the MCU - The Loop
Play Sound
Denzil Tulser was a charactor in Only Fools And Horses who first appeared in "Who's A Pretty Boy (22nd December 1983) and was often a foil for Del Boy's get rich quick schemes. Due to his gullible nature, Denzil often found it hard to say no and used to get conned by Del. On occasions, Denzil could be as gullible as Trigger but usually was quite intelligent. Denzil appeared regularly throughout the series and also in The Green, Green Grass (spin off of Only Fools And Horses) and Rock And Chips (Prequel to Only Fools And Horses). Denzil was played by Paul Barber.
Backstory
Denzil Tulser was born on the 8th August 1945 in Liverpool to a Jamaican family. Denzil was one of 5 children, all boys.
Rock & Chips
In 1959, Denzil moved to Peckham aged 13 from Liverpool. With four big brothers to look after him, he attended Dockside Secondary Modern and managed to make his way into the cool gang of Del, Trigger, Boycie and the boys. When in detention in the science hall, Denzil had his eyebrows burnt off after Del and Trigger blew up the classroom making fireworks. Denzil's dad was offered a job on the London docks, leading to Del Boy and Jimbo using this connection to sell goods from the docks out of the back of a van. Denzil spent the last few years of his school years at Dockside Secondary Modern where he became good friends with fellow schoolmates Derek "Del Boy" Trotter, Trigger - aka Colin Ball, Boycie and Roy Slater.
Five Gold Rings
A few weeks following the birth of Del's brother Rodney, Del Boy Trotter and the rest of his gang including Boycie, Trigger, Denzil, Jumbo Mills, and Albie Littlewood have all left school. it's unknown what denzil atually did following this but he still hung out with the group.
The Frog & The Pussycat
Upon telling his mates his plans to make a film called Dracula on the Moon and become a millionaire, Del Boy is met with ridicule and doubt from his mates including Denzil. On February 1962, Denzil is having a smoke outside Sir Walter Raleigh Tower alongside Del Boy, Boycie, Trigger, Jumbo and Albie. Following Del's break-up with Barbara bird, the gang steal some lambrettas and ride off into the night towards Brighton.
Only Fools & Horses (1983-1996)
A year prior to the series starting, Denzil married his Partner Corrine but Del ruined her wedding reception. He promised to supply all the food and drink but the fridge went on the blink and the goodies wentmanky, thus why Denzel and Corrine had to cut a jam sponge. In late 1983, Del and Rodney visited Denzil. They had planned to paint Denzel's flat. When Del spun him a yarn about being in the painting and decorating business, Denzil asked Del if he could paint this room for him. Del later lost out to Irish man Brendan O'Shaughnesse.
In early 1985, Denzil was made redundant. Del Boy found out, and as he was wanting to raise £2000 to buy some Louvre doors, he persuaded Denzil to hand the money over to him, claiming he would make him rich. Del frogmarched Denzil to the bank and Denzil was crying when he handed the money over. Denzil alerted his 4 brothers. They all went round to Nelson Mandela House. Albert Trotter saw them from the balcony and alerted Del and Rodney. They managed to escape and they fled to the cemetery. Del, Rodney and Albert caught a rare butterfly. Del saw Denzil roller skating through the park and called out to him. He said he has got Denzil's money but Denzil gave him a "high five" and squashed the butterfly.
By 1988, Denzil had set up his own company, Transworld Express. Del Boy insisted he becomes big and brazen, and it is all about image, as Del himself had adopted a yuppie image. One afternoon in The Nags Head, Denzel tells Del and Rodney that he took his wife, Corrine out for the evening to celebrate their anniversary, despite picking up a faulty stock of 50 dolls from a shop in High Wycombe and having to take them back to the factory, intending to take them in Monday. However there was a fire at the factory so Denzil can't take them in, and has to hand in a form to show he returned the dolls. He worries that they will think he has become unreliable or is nicking stuff. Del forges a signature from the factory and buys the dolls off Denzil. Del said they never check these signatures and according to Denzel's bosses, those 50 dolls went up with the rest of them.
In Jolly Boys Outing, it was revealed that Denzil used to work as a bus driver with Sid, which meant he drove the coach to and from Margate.
In 1989, Denzil and his brother Carl Tulser met a retired jeweller called Arnie. Del Boy had also recently bumped into him. It turned out Arnie was a conman who invented a wholesaler and that wholesaler wanted to pick up the chains just after the customers had bought them off Arnie. Arnie faked a meeting with Stavros and then faked a heart attack and got his 2 sons to, using an old ambulance, pose as paramedics and take Arnie away. As Arnie never told his customers his surname or address, and there was loads of hospitals in London, none of his customers could trace him. Gary and Steven would then pose as a doctor and contact Arnie's customers to say Arnie had passed away but they would not disclose Arnie's widow's address. The truth later emerged when Rodney saw Arnie faking a heart attack. Denzil, Del Boy and the boys all hatched a plan to apprehend Steve and Gary and Arnie.
2001-2003
Del Boy uses Denzil and Trigger to to travel with them in Denzil's lorry to allow them to purchase a large amount of duty-free alcohol which they can sell to Sid at the pub and make some money, and then do more trips. Del tells Denzil and Trigger not to tell Rodney about the scheme.
On the way back to the ferry port at Calais, Del Boy and Rodney visit a duty free warehouse were Rodney notices notices Denzil. Del pretends to be surprised to see Denzil in France at the same time. They then see Trigger, and Rodney realises Del is up to something, who says he's doing a few booze cruises as they need the money. As they load up they all forget they did not put their watch forward an hour to French time and there is only half an hour until the ferry leaves. Del quickly hijacks a forklift truck and he loads the booze onto the back of Denzil's lorry. They then head back to England. That night, Denzel and Trigger are unloading the packets of booze into Del's garage. Up in their flat, Del and Rodney are celebrating their safe return from France. Rodney accidentally mentions Denzil and Del says they bumped into him over there, it was a coincidence. Down on the estate, 12 floors down, Denzil and Trigger find an illegal immigrant in the back of the lorry and inform Del. Him and Rodney go down to see Denzil to discuss what to do with the immigrant. Del suggests they just let him go or take him to an immigration centre in Croydon, London. They then agree to take him up to the flat. Denzel and Trigger carry on unloading before going home.
In Sleepless in Peckham, Denzil is suspected to have ran away with Marlene since teh pair haven't been seen or heard from in a couple of days. Soon enough, the Trotter Brothers and Trigger find Denzil at a pizzeria and ask him if he made off with Marlene. Denzil says that he has not seen Marlene recently either but has been in hospital getting treatment for haemorrhoids.
The Green Green Grass (2005)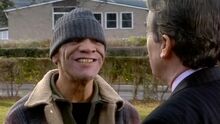 In 2005, Denzil visited Boycie to try and get his cousin Calvin a job at Boycie's Showroom, only to revealed that Calvin was in prison and that The Driscoll Brothers are getting out of prison soon. This revelation caused Boycie to panic as he was responsible for sending them down by testifying. Fearing for his life, Boycie flees Peckham along with Marlene and their son Tyler.
It was during this time that the autobiography "He Who Dares" reveals that The Driscoll Brothers went knocking at his house looking for Boycie, as well as Trigger's and Del Boy's places.
In teh episode "Calendar Boys", when Marlene was creating a Calendar boys for charity, Denzel was one of the people to sent a photo of himself. When seen by Tyler, he asked why Denzel was wearing a mask, only for Marlene to explain that it's just his face now.
He then made another appearance (not in person) in episode I Done It My Way in 2009, where he appeared in a flashback episode of Only Fools and Horses
Memorable info
Born: 8th August 1945
Full Name: Denzil Tulser
Parents: Clarence Tulser and Mrs Tulser
Siblings: Carl Tulser, 4 others brothers
Spouse: Corrine (??-1988)
Children: None
Cousins: Calvin
Observations
Denzil is a long distance lorry driver, and a good friend of Derek Trotter, and one of Del's victims when it comes to dodgy goods. In the 1983 episode Who's A Pretty Boy? Denzil's ex-wife Corinne could however see through Del, and stated that whenever Denzil and Del got together, Denzil ended up drunk, or out-of-pocket, to which Denzil protests, "Yeah I know, but he's a mate." Del endured Corinne's wrath by ruining her wedding day food, after his fridge broke down, leaving the guests eating pie and chips, and Corinne cutting a Jam Sponge cake. The final straw came, when Denzil hired Del, Rodney and Grandad to paint the living room. They burnt a hole through the kettle, ruined the kitchen with the steam turning it into a "Turkish bath", and thought they had killed Corinne's canary (it was revealed that the canary had actually died before the Trotter's arrived). Panicking, they sent Grandad to buy a replacement bird, hoping to fool Corinne. The plan however failed, as Corinne came home to find the bird that had died before she left for work, had been resurrected, and the kettle with a hole in it.
Denzil and Corinne divorced later in the series, but Corinne herself only appeared in one episode, as the actress who played her died soon after starring in one episode, so the character was written out of the show. Denzil's trade of long distance delivery driving also contributed to the divorce, as well as sending Denzil into a mental hospital. In the 1985 Christmas special To Hull and Back, whilst driving to Hull, he began to hear Del's voice. Del had been locked into the back of the van, after using it for a secret meeting with Boycie and Abdul. Arriving at Hull, Denzil headed into a café to get some food, and coffee to wake himself up. When eating, he saw a reflection of Del's Reliant Regal van driving past. Thinking he's losing his mind, he headed to the cliffs to relax for a bit, then the final straw came when he saw Del on a fishing trawler heading out to sea.
Gallery