Jurassic World: Dominion Dominates Fandom Wikis - The Loop
Play Sound
June Snell

Portrayer
Diane Langton
First seen
"Happy Returns"
Last seen
"A Royal Flush"
Duration
1985-1986
Profile
Date of birth
-
Occupation
-
Family
Debbie (Daughter)
Son
Husband
June Snell was a minor character in Only Fools And Horses who appeared in 2 episodes; Happy Returns and A Royal Flush. She was an ex-girlfriend of Del's from many years previously.
Biography
Del Boy met June in 1964 and she begun hanging out with him and his friend Albie Littlewood and Albie's girlfriend Deirdre. One day in September 1965, Albie died when taking the shortcut across the railway line on his way to meet June. He was seeing her behind Del's back. Albie got June pregnant. June then swiftly found out and left Del Boy without a word.
June had a daughter Debbie in early 1966. June later married and had a son Jason Snell.
Only Fools & Horses
By 1985, June was living back on her old estate again and was living in a flat in Zimbabwe House. By chance, Del took a young boy called Jason Snell home and found he was the son of June Snell. June invited Del in and they got chatting about old times. Mickey Pearce said Debbie was 19 next week and Del and June were seeing each other 19 and a half years ago. Del assumed he was her father. He said he now knows why June left so suddenly, June thought Del knew Albie Littlewood was Debbie's father and that is why Del was mad. June said she knew how Del would react so did not tell him. Del later said to June to tell Debbie he is her father and June said when he said he knew, she thought he really knew. She told him the truth, that his best friend Albie was Debbie's father. He was not on his way to meet Del in the pub on the night his bike fell on the live rail, but coming to meet June. Del said he was not in the pub anyway that night as he was seeing Albie's girlfriend Deirdre. Del then left, and he and June did not see each other for 2 years.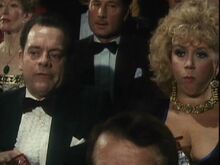 In late 1986, Del invited June to see an opera as Rodney was now dating Lady Marsham Hailes, daughter of The Duke Of Maylbury. June seemed much more uncouth by then and was resorting to using common phrases in front of nobility, such as saying "Fat git", about an opera singer, and calling the toilets "khazi's". Del and June talked and ate through the entire opera performance. June then threw up over the person in front which ruined Rodney's evening with Lady Victoria.
After this, it is unknown if Del and June remained in contact with each other.
FamilyEdit
Spouse Mr Snell (c1975-1985)
Children Debbie Snell (1965), Jason Snell (1975)
		 	  		 	  		 	  		 	  		 	  		 	  		 	  		 	  		 	  		 	  		 	 They met up again when Rodney dated June's daughter Debbie in "Happy Returns" (which Del scuppered in the mistaken belief that Debbie was his daughter). They fell out when June revealed that Debbie's real father was in fact Del's best friend Albie Littlewood, and Del in turn admitted that he had been cheating on her with Albie's girlfriend Deidre. They were later reconciled again, however, as Del invited June to the opera in "A Royal Flush" with Rodney and his date Lady Victoria. He and June ruined the evening and embarrassed Rodney by noisily eating snacks and arguing with other audience members.