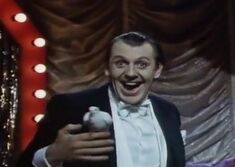 The Great Raymondo is the stage name of a stage magician called Ray who was flatmates with Raquel in Margate. After sneaking out of the Villa Bella boarding house in Margate, Del and Rodney meet up with Boycie, Mike and Trigger in a nightclub and watch The Great Raymondo perform. His assistant happens to be Raquel, who Del hasn't seen since the Dates episode.
Del gets Raquel's attention who excitedly yells "Del!" and ruins the act, much to The Great Raymondo's annoyance. He approaches Raquel a little later while she's catching up with Del at the bar and tells her to get her act together or find somewhere else. Raquel confides that Ray has a temper and that he scares her sometimes. Del, over protectively, says "do you want me to whack him for you?" but Raquel settles him down.
Later, when Del and Rodney cant get back into the Villa Bella due to being locked out, they visit Raquel's flat and ask to stay the night there. Raquel agrees and makes the settee up for them but in walks Ray who asks what they're doing here. Del jumps to the conclusion that The Great Raymondo is a "bully-boy" and is living with Raquel in a one sided relationship and punches him on the nose. (Even though Del knows his name is really Ray, he still calls him by his stage name). Del then tries to get Ray to leave, picks up Rays suitcase and throws it on the table - it slides off and out of the open window.
It turns out the Ray is actually gay and is living with Raquel because it's cheaper than getting separate flats. Del apologizes, Ray calms down and appears apologetic to Del. He then goes outside to fetch his suitcase claiming "I could do with the air".
We later learn that when the suitcase flew out the window it hit Mike on the shoulder after Boycie's head broke it's fall.
Ray used to be a member of the Territorials.